Welcome to MMU
Ministrymaker University, an outreach of Ministrymaker Ministries, is an accredited distance learning Bible College and Seminary. Through MMU you will receive ministry training and earn a diploma for one low cost. There are no hidden fees or materials to buy.
Ministrymaker University provides advanced theology degrees to men and women who are entering the mission field, starting a church or ministry, or wanting to become leaders in their local congregation. We help people from all walks of life, backgrounds, and denominations become better preachers, teachers, and ministry leaders. We are dedicated to teaching sound doctrine and welcome all to partner with us in advancing the kingdom.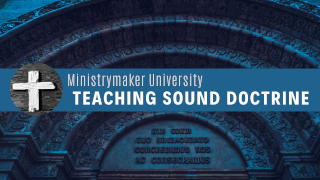 Ministrymaker University is dedicated to equipping men and women for the work of the ministry through the teaching of sound doctrine. Watch a special message from Dr. Linton to learn more about our ministry and teaching philosophy.
MMU makes it easy to earn your associate, bachelor, master, or doctorate degree in biblical studies, ministry, divinity, theology, or biblical counseling. Study at home, your office, or wherever you choose. Classes can be completed at your convenience from any location. If you've been thinking about earning or finishing your degree, the time is now!
We pray you will consider Ministrymaker University and recommend it to others. Learn more about degrees, pricing, and how to register.
Dr. Gary and Kim Linton
---
Testimonials
"I thank God for Ministrymaker University. I believe the church of today needs new direction to equip, encourage and uplift people who are trying to start a new church." – Pastor Suniel Gill
"Thank you for your ministry which has enabled me to preach on different topics in different situations and has made me a real preacher." – Reuben Rai
"The teachings, prayers and encouragement I've received from Ministrymaker have been life changing and such a blessing to me and my husband. I will be forever grateful for Dr. Linton, his beautiful wife, and the ministry God has so graciously bestowed upon them." – Sarah Maloney
"When I first felt the spirit of God urging me to step into ministry, I moved in faith searching for how to start. I found nothing! Growing more frustrated, I finally found Ministrymaker which was the only organization that gave me the help, encouragement and information that I needed." – LaTonya Elias
---
Become a Partner
By making a single gift or monthly donation to Ministrymaker University you are helping to train men and women for the work of the ministry and see laborers thrust into the harvest.
Donate to Ministrymaker University
Matthew 9:37-38 – "Then He said to His disciples, "The harvest truly is plentiful, but the laborers are few. Therefore, pray the Lord of the harvest to send out laborers into His harvest.""
Ministrymaker Ministries, Inc. is a 501(c)3 tax exempt, non-profit organization. All donations are tax deductable.